Dynamic remarketing banners for Charlie Temple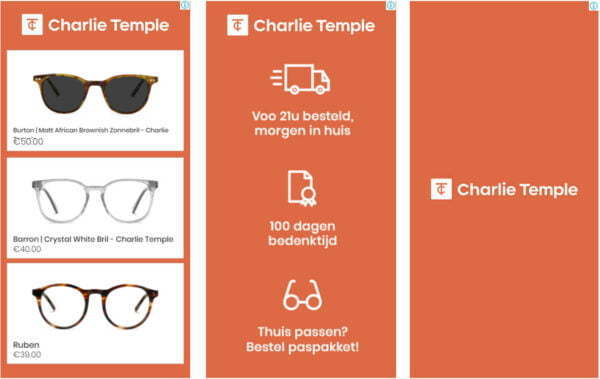 Online optician Charlie Temple has become a well-known online player in recent years. Charlie Temple's philosophy is that buying glasses should be fun and easy. And that everyone should be able to buy the best quality glasses without spending a fortune.
Online visibility
As an online player, online visibility is obviously hugely important. Therefore, Charlie Temple employs various online channels to promote its products. In various ways, new campaigns are continuously tested and sought to improve results.
Professional party for creating online banners
For a new dynamic remarketing campaign, Charlie Temple sought a professional to create the online banners. After comparing several parties, the choice fell on GO! Grafi Offshore. The deciding factor was the confidence in the professionalism and the way they thought in terms of possibilities rather than limitations.
The purpose of the dynamic remarketing campaign
The goal of the online campaign is to reach out once again to visitors who have not (yet) made a purchase on the Charlie Temple website. Through dynamic banners in Google Ads, Charlie Temple is still trying to entice these prospects to make a purchase. The banners are dynamic in the sense that they show the products that the respective visitor last viewed. The design was done internally by Charlie Temple. Charlie Temple also provided the XML file containing the product information linked to the dynamic campaign. GO! Grafi Offshore then created the online banners in 6 different banner sizes.
"We have found it to be a fine collaboration and are satisfied with the results"
Ender Ozcam, as Performance Marketer responsible for the online advertising channels on which Charlie Temple promotes its products, is very pleased with the collaboration with GO! Grafi Offshore. The contact with Lars (project manager) went very well. We have had great conversations and he responds quickly!  Lars gave us great advice and ultimately delivered what we had asked for. We have found it to be a pleasant collaboration and are satisfied with the results.
The dynamic remarketing campaign will start soon. We hope Charlie Temple will be as pleased with the results as he was with the project collaboration!
Want to know more about using online banners effectively?
Contact us by email or call: 0168 476 144