Online banners for the Micazu campaign of Klein + Klein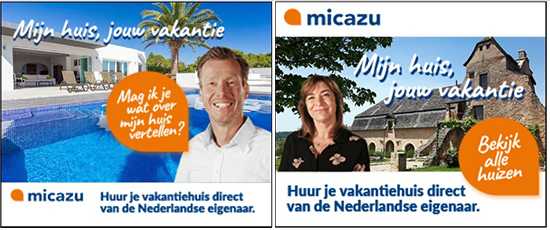 A good and creative concept is the basis for getting a message across in a striking and appealing way. That's exactly what Klein + Klein is strong at: creating original, appealing concepts. Because it is not what a company says, but how it communicates this message that determines its success.
"At Grafi Offshore, we immediately had the feeling that things were going to work out."
One of the clients in Klein + Klein's impressive portfolio is vacation home provider Micazu. For a campaign of Micazu, Klein + Klein was looking for a professional party that could convert the banner designs into online banners. GO! Grafi Offshore was selected. "We contacted several parties to create online banners," says Marco Klein. "At GO! Grafi Offshore we immediately got a good impression. We immediately had the feeling that it was going to be good".
Technical realization of HTML5 banners
Klein + Klein provided the designs in Photoshop. The Interactive Media Studio at GO! Grafi Offshore used these photoshop files as the basis for the technical realization of the various HTML5 banners.
A good cooperation
Klein + Klein Communications is very pleased with the results delivered. "The contact was excellent, there was a quick response, good thinking, everything was on time and exactly as agreed."