8 Tips to reduce PSD file size without quality loss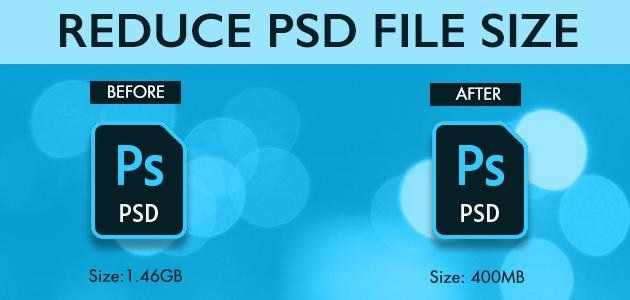 When editing grapical files in Photoshop, the final PSD file size often is quite heavy. This means that unnecessarily much time is spent, when opening, saving or sharing your file. As a solution to reduce the file size, many designers reduce the resolution of their PSDs. However when doing this, no ony file sizes gets less, but the quality reduces as well. Below, we've listed 8 simple tips to reduce the file size of your PSD without losing its quality.
Tip 1. Put a solid white layer on top
Photoshop's high quality file previews are weighty. When you hide all your work behind a solid white layer on top, you don't have to load a heavy preview, which will spare you some load time.
Tip 2. Only keep the essentials
When you're editing images in Photoshop, it's very likely that in the end your file consists of many different layers that are not all reecant for the fial result. It's easy to forget some of the junk that accrues as you create your document. Check your document for 'junk' hidden layers, layers for your color palette or notes and measurements? Delete them. It will probably reduce the file size a lot.
Tip 3. Merge / flatten layers
A PSD file with 100 layers is much heavier than a PSD with only 10 layers. Where and when possible, merge several layers to one. Not only will this bring back the file size, it will also help to make the layers look organized and clear.
Tip 4. Apply layer masks
The use of layer masks in Photoshop adds some weight on the file size. To reduce your file size you can apply the layer masks. This is easily done by right-clicking on the mask, then apply it.
Tip 5. Crop oversized layers to document bounds
Any graphics and colors you leave off the canvas add to your file size. Delete anything in the document that is off-canvas. As a quick fix, hit command-A to select all, then go to Image > Crop.
Tip 6. Rasterize smart objects
The use of smart objects makes the file size heavy. When you rasterize a smart object, you're removing options, which saves space. This is a simple fix, that unfortunately is often forgotten. You can rasterize a layer bij clicking on Layer > Smart Object > Rasterize
Tip 7. Use adjustment layers
When editing an image in Photoshop, a general action taken is to duplicate the layer for editing purposes. Instead you can use an adjustment layer for editing. This reduces file size a lot. For using ab adjustment layer, go to Image > Adjustment.
Tip 8. Delete the path / alpha channel
Last but not least: delete unnecessary working paths / channels before saving your document. This will help as well.
Did we miss anything? Do you have more tips to reduce the file size of a PSD without losing quality? Please let us know!