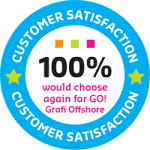 Customer satisfaction survey
Executing a customer satisfaction survey can be engrossing. When you ask people for their opinion, you have no influence on the outcome of the questions. You're in a vulnerable position. Besides, when you ask your clients for their opinion, you should be prepared to listen and to change your organisation, if that's what your clients want. In short, executing a customer satisfaction survey is a real organisational challenge!
100% would choose again for us in future
By now, we have executed the customer satisfacton survey and processed the results. And we can say, we are quite happy with the results! 100% of the respondents say they will in future choose again for GO! Grafi Offshore as their supplier. Furthermore, our clients value us with an average of 4,2 stars on a scale of 1 to 5! Especially the fast delivery, good servce and the price/quality ratio are highly apppreciated.
Scope for improvement
However, there is still scope for improvement. According to our clients, we should make more of an effort to promote the broadness of our services portfolio (especially the IT services). Furthermore, you expect us to be more proactive and to emphatize more with our customers. We already have started working on this. Dear customers: thank you very much for participating in our survey!