The advanced process of stamp production at Stempel-Fabrik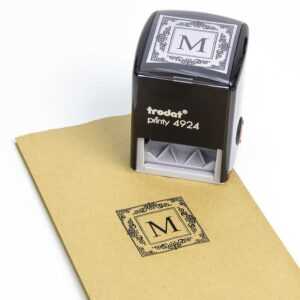 Address stamps, date stamps, company stamps, or round stamps. You can't imagine whether the originally German Stempel-Fabrik supplies it. The head office of Stempel-Fabrik is located in Gerlingen, Germany. There is a huge production hall set up for the manufacturing of the stamps. The company is not only active in several countries in Europe, but also in the United States and Canada. GO! Grafi Offshore has been working with this great company for 10 years now. A great time to put them in the spotlight!
The process
The process is some simple to get a stamp. You can order these online in the Stempel-Fabrik webshop. You specify the size you want the stamp to be in. You provide a file with logo and/or text and often you will have your custom stamp delivered the very next day. Few people realize that the moment you click the "place order" button, a sophisticated process is set in motion on the back end. The fun part is: GO! Grafi Offshore is an integral part of that process.
Image processing of stamps
To put a stamp into production, a bitmap file in grayscale at 600 dpi is required. This bitmap file is used by GO! Grafi Offshore made. Once a stamp order is final, the material to make the stamp is immediately and automatically forwarded to us for processing. Thanks to smart automation, we can read the required information from the file name. As a result, we quickly know what the desired end product should be. The staff at our Image Studio first conducts a quality check of the supplied material. We check the resolution of the material and adjust it if necessary. When we receive a color file (RGB / CMYK), we convert it to grayscale. Is the edited file ready for production, we save the bitmap file under a changed file name and set it up for Stempel-Fabrik. Stempel-Fabrik's automated system recognizes the file name and ensures that the print-ready stamp file is immediately read in on one of its many presses. Thus, it automatically enters the next stage of the production process.
Operational excellence and people work
Even though the process of Stempel-Fabrik is optimally automated, sometimes the intervention of people is unavoidable. For example, it sometimes happens that customers have not specified the size of the stamp correctly or that we cannot open the graphic files. We feed this back to Stempel-Fabrik, so that the customer service can take appropriate action and the end customer is given the opportunity to supply missing data. This process also works smoothly!
To the next 10 years
We are very happy that we have been working well with this beautiful customer for 10 years. What does Stempel-Fabrik think of it? This is what Christian Sommer says about the collaboration: "The collaboration is professional, reliable and good. The people at GO! Grafi Offshore understand how we work. They know our products, our processes and last but not least the wishes of our customers. That is very important to us, because it allows us to work more efficiently. The quality delivered is consistent, we are very satisfied with that. We look forward to the next 10 years with confidence."